I have been, or can be if you click on a link and make a purchase, compensated via a cash payment, gift, or something else of value for writing this post. Regardless, I only recommend products or services I personally believe will be good for my readers.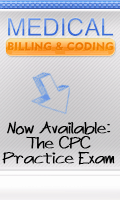 Medical billing and coding jobs are an important part of the healthcare industry, by processing patient treatment records and related insurance information.
The coders make sure the medical treatment is properly presented to the insurance company requesting payment.
The standard certification in the industry is the Certified Professional Coder (CPC). Certified coders make an average of $7,000 more than uncertified coders.
In order to be certified, an individual must pass the CPC Exam.
The 2018 CPC Practice Exam Is Available Now. If you know what to expect because of a good practice exam, you will not be surprised and are better prepared for real exam.
In addition to our well-constructed questions we are also providing a full rationale for each question.
These rationales provide the correct answer for each question as well as a full explanation as to why this option is correct, why the other three options are incorrect and where in the medical coding books the answer can be located
Studying the rationale of an answer may very well be the easiest and most efficient way to learn how to pass the CPC exam.
For full access to the 2018 CPC Exam 150 questions with Full Rationale, Click Here.